The biggest Spring/Summer 2019 trends for men
---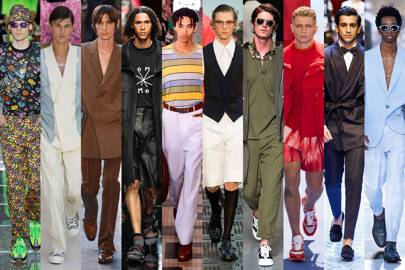 Whisper it, but summer is here. IT'S HERE. It's a fact which means only one thing (one thing in addition to the point that you must wear factor 50 on your face everyday, morning 'till night, from now until December) - your wardrobe is due a much needed warm weather-ready refresh with the latest summer trends.
That's right, friends. It's time to ditch your coats, shelve your sweaters and squirrel away your heavy knitted trousers in favour of breezy shorts, boxy bowling shirts and those all too oft-ignored espadrilles.
Though we bet you can't wait to get those pale pins out in the sun, we also understand that being a nation of Northerly aspect we tend to take issue when it comes to dressing for anything other than an impending apocalypse. So here, to help you make the correct summer wardrobe choices this warm weather season, is our ultimate guide to all of the biggest spring summer trends for this, the year 2019.
Happy shopping...
1. A return to elegance

Tailoring was back – and back in a big way – in London, Milan and Paris. Sure, there were plenty of beautiful suits at the usual suspects (Canali, Corneliani, Ermenegildo Zegna), but even the more outré brands dabbled in tailoring. The entire Comme des Garçons show was an avant garde musing on the suit, Charles Jeffrey Loverboy showed several tailored two-pieces and even the king of streetwear, Virgil Abloh, threw in a suit or two into his inaugural collection for Louis Vuitton. The most elegant of all the collections, however, was Kim Jones' couture-inspired outing for Dior. You'll never look at a double-breasted blazer (more on that later) in the same way again.

Suit by Gucci

£1,920. gucci.com

Tailleur Oblique Jacket and Wide Leg Pants in Wool and Mohair by Dior

Jacket: £2200 & Pants: £740. via dior.com

Tailored Jacket with Curved Hem by Louis Vuitton

£1970. via louisvuitton.com

Pinstripe Tailored Jacket by Alexander McQueen

£2145. via alexandermcqueen.com

2. You need some short shorts

GQ Fashion Director Luke Day has long been a proponent of ultra-short shorts, and for Spring/Summer 2019 his time has come. Tiny bum-skimmers were all over the runways this season, with the best found in neoprene at Prada, tie-dye leather at Louis Vuitton and swirly-whirly retro print at Dries Van Noten. Invest in some now, stop skipping leg day and you'll be ready to go by spring.

Shorts by Neil Barrett

£375. matchesfashion.com

Logo-Print Shorts by Tom Ford

£280. via selfridges.com

Technical Jersey Shorts by Prada

£640. via prada.com

Mona Lisa Shorts by Off-White

£280. selfridges.com

Firetape Print Shorts by DSquared2

£215. via selfridges.com

3. Suits worn with bare chests (it's a thing)

Now you've got your suit sorted, you need to figure out how to wear it. Luckily, your friendly local style shrink is here to help. For Spring/Summer 2019, you should be wearing your suit with absolutely nothing underneath. That's right: nothing. The trend was everywhere at the shows, from the baby-blue two-piece worn with naught but a bare chest at Ermenegildo Zegna to the ultra-chic stone-hued suit shown sans shirt at Hermès. If you're going to try the trend yourself, be sure to invest in some super-strong, mark-free deodorant first...

Cotton Suit by Paul Smith

Jacket, £515. Trousers, £225. Both at paulsmith.com

Suit by Versace

Jacket, £1,850. Trousers, £550. Both at versace.com

Prince of Wales Check Suit by Roberto Cavalli

£2430. via robertocavalli.com

Trofeo 600 Wool & Silk Suit by Zegna

£2390. via zegna.co.uk

4. Sage is the colour

There were several colour trends going on at the shows – fluoro lime being one of them – but sage was easily the most wearable shade doing the rounds. From a beautiful sage two-piece suit at Canali to a smashing sage mac at Corneliani and a series of sporty pieces in sludgy sage at Dsquared2 – you heard it here first, sage is the shade of (next) season.

Slim Chinos by Arket

£55. arket.com

Polo shirt by Bottega Veneta

£410. matchesfashion.com

Artist Jacket by Oliver Spencer

£295. via oliverspencer.co.uk

Sweatshirt by DSquared2

£325. via dsquared2.com

Pleated shorts by Valentino

£490. via selfridges.com

5. Invest in some hiking sandals

There wasn't a show that didn't feature a pair of sandals in one iteration or another. The most desirable came in the form of souped-up tech walking sandals. From the heavy-duty hikers at MSGM to the nylon-webbing strap styles at Fendi.

Braided T Sandals by Tom Ford

£990. harrods.com

Eye sandals by Kenzo

£200. harrods.com

Trek Leather and Mesh Sandals by Gucci

£615. via selfridges.com

Takara Sandal by Hermès

£600. via hermes.com

Crossed Lacing Sandals by MSGM

£270. via msgm.it

PU and Leather Sandals by Fendi

£550. via fendi.com

6. You also need a handbag

Yup. Not a manbag, not a murse, not event a pochet... Spring/Summer 2019 is the season of the handbag. At Dior, Kim Jones reinterpreted the classic saddle bag, originally designed by John Galliano, into a series of shoulder bags and cross-body styles. At Zegna, little tassel bags where held in many of the models' hands. It was at Prada and Valentino, however, that the look was most literal, with actual handbags sent sashaying down the runway. After all, men have stuff too.

Academy Pouch by Coach

£195. coach.com

Coin Purse by Jacquemus

£180. via jacquemus.com

Flat pouchy by Fendi

£1,190. fendi.com

Technical Canvas Bag by Versace

£640. via matchesfashion.com

Messenger Bag by Dior

£856. via dior.com

Leather Shoulder Bag by Prada

£1525 via prada.com

7. You should be wearing your double-breasted exaggerated

Double-breasted is the suiting shape of the season. We're not talking tightly tailored, body-con DBS – the kind that was big news in 2015 – rather big, baggy, super-fluid double-breasted suits with plenty of room for the turkey belly you accumulated at Christmas. The best thing about these double-breasted suits? They're best worn open. For the best, look no further than Korean brand Wooyoungmi.

Double Breasted Jacket by Giorgio Armani

£1650. armani.com

Double Breasted Blazer by Wooyoungmi

£830. via farfetch.com

Double-breasted tuxedo by Dunhill

£1,995. dunhill.com

Double Breasted Blazer by Paul Smith

£815. via paulsmith.com

Double Breasted Tennis Striped Jacket by Celine

£1850. via celine.com

8. It's all about unexpected shirting

Billowing Bengal-stripe shirts worn in a casual way have been doing the rounds for a while now, but for Spring/Summer 2019, it's all about weird and wonderful shirts with a high-fashion edge. The season's best could be found at Alexander McQueen, where sleeves were long and cuffs were left flapping (in a chic way) under the arms of suits. Also worthy of note were the funnel-neck tunic shirts at Lanvin, the oversized cowboy check shirts at Ami and the billowing new romantic styles at Pal Zileri.

Macro Check Shirt by Marni

£590. marni.com

Shirt by Joseph

£215. joseph-fashion.com

Long Sleeve Cotton Shirt by Alexander McQueen

£840. via alexandermcqueen.com

Patchwork Oxford Shirt by LOEWE

£325. via loewe.com

Striped Cotton Shirt by Maison Margiela

£470. via selfridges.com

9. Your tailoring should be wrap-around

Suits weren't just cut in traditional ways at the menswear shows, no, no. Some of the most exciting tailored garments had a more casual aesthetic, with a wrap-around, kimono-style vibe. At Etro, the look was literal, with some kimono-style suits coming finished with obis, while at Cerruti, Dolce & Gabbana and Maison Margiela, shawl-collared tailored pieces were fastened with belts rather than buttons. The look was louche in the extreme – and we liked it.

Belted Wool Blazer by The Koopes

£498. via selfridges.com

Deconstructed Kimono Jacquard Jacket by Etro

via etro.com

Harlem Kimono Jacket by Prévu London

£100. via prevustudio.com

10. Get in on the pattern clash

Bright, bold, clashing patterns injected some welcome vibrancy to the menswear shows this season, with Versace leading the charge. Donatella contrasted a new newspaper print with her classic baroque patterns to dazzling effect. At Dolce & Gabbana, the designers showed tracksuits and cagoules covered in clashing iconographic images, which had a bright Eighties vibe. At Valentino, big, brash logos were contrasted with a neon-infused interpretation of a classic camouflage print.

Silk Shirt by Gucci

£850. selfridges.com

Botanical Shirt by Joseph

£225. via joseph-fashion.com

Logo Jogging Bottoms by Dolce & Gabanna

£619. via flannels.com

Il Tempio Print Silk Shirt by Versace

£920. via versace.com

Bag by Versace

£1,380. versace.com

Logo-webbing Trousers by Gucci

£600. via selfridges.com

And now for the SS'19 micro trends you should know about...

1. All Things Snakeskin

An altogether more difficult proposition than AW'19's tiger print trend - though far more summer appropriate - python skin shirts, shorts and co-ords slithered in as one of the surprising micro-trends at the SS'19 shows.

The entry level piece: Python hiking boots by 1017 Alyx 9SM, £685, matchesfashion.com

2. Flat-form Loafers

Flat-form boots, Derbies and Oxfords have been doing the rounds for a fair few seasons now (just head to Prada's online store for proof) but for SS'19 a surprising pop-up trend was for flat-form loafers. Best worn with cropped, wide-leg trousers.

The entry level item: brown suede loafers with crepe soles by GH Bass & Co, £120, ghbass-eu.com

3. Camp Collar Shirts

The camp collar shirt is nothing new, but fdor SS'19 it's found its way back into the top of the pops. The best camp collar styles on the runway could be found at Fendi and Prada, but for an easy (not to mention supremely summer-y) route into the trend look no further than Milanese brand Missoni.

The entry level item: Bowling shirt by Missoni, £135, flannels.com

Now read:

Best new menswear items in the world this week

Is this the hypest puffer jacket in the world right now?